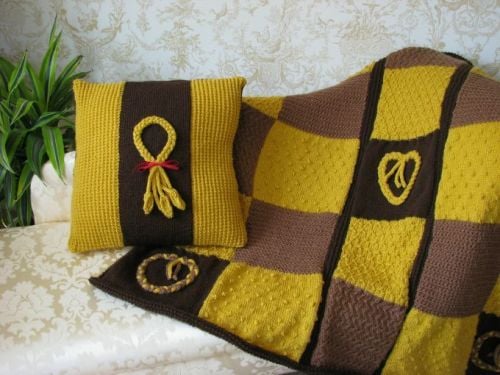 Seasonal Cushion Cover & Throw Pattern - Wheat Plait
Pattern leaflet
The front of the cushion cover features plaited 'I cords' worked into a simple shape reminiscent of the Countryman's favours that farmworkers would make from heads of wheat to give to their loved ones. The golden side panels are heavily textured to represent the corn stubble after the harvest.
The accompanying throw is made up of 25 squares worked in 5 strips and the four different textures have been chosen for their similarity to haystack, corn stubble and grains of wheat. The plain squares are also decorated with plaited 'I cords' to add further interest and depth to the design.
Worked in double knit yarn the Cushion Cover fits a 40 cm (16 inch) cushion pad and the throw is approximately 104 x 109 cm (41 x 43 inches).