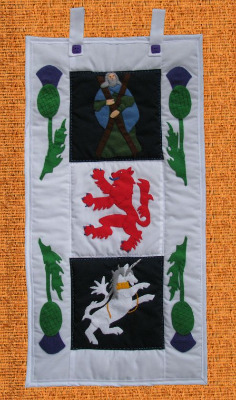 Quilted Wall Hanging - Scotland
The wall hanging depicts the emblems that represent Scotland.
The emblems for Scotland depicted are St Andrew (Patron Saint), Thistle (national flower), a Unicorn and the Heraldic Lion.

This wall hanging is decorated extensively with applique. Acrylic felt is used both for the durability of its colour, and because areas of the applique need more than one layer of felt - acrylic is thinner than wool/wool blends.
Embroidery embellishes and adds detail, and the blocks are quilted to add definition.
As with all our kits the pattern leaflet includes detailed instructions.

Size:

Finished size is approximately 22 x 11 inches (56 x 28 cm)

Included in the Kit:
Pattern Leaflet
White Polyester Cotton
Dark Blue Polyester Cotton
Acrylic Felt

2 oz Polyester Wadding
White Bias Binding
Anchor/Madeira/Presencia Embroidery Threads
Buttons
(the buttons may vary from those shown in the picture but they will be a similar size and colour)