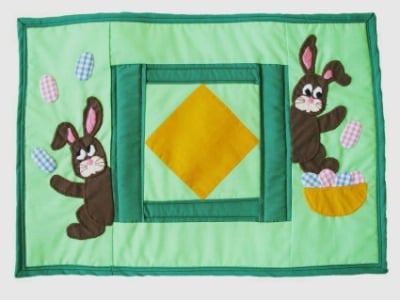 Quilted Placemats (Pack of 2) - Easter Bunny
Bunnies have been linked to Easter for centuries and these two are ready for some Easter fun. If you buy 2 sets there is a £5.00 discount on the overall price, just type the word Multibuy in the discount box at the checkout.
The level of quilting on these placemats is simple, the applique a little more involved. We have worked the applique by turning under the edges of the cut fabric but if you prefer you can use a suitable adhesive product, such as Bondaweb.

The edges are bound with bias binding and the wadding is a special thermal product which provides a degree of protection against heat, sufficent for most standard uses of placemats.
As with all our kits the pattern leaflet includes detailed instructions.

Size:

Finished size is approximately 16 x 11 inches (40 x 28 cm).

Included in the Kit:
Pattern Leaflet
Light Green Polyester Cotton
Dark Green Polyester Cotton
Gold Polyester Cotton
Brown Polyester Cotton
Light Peach Polyester Cotton
Blue & Pink Gingham

Lightweight Iron-on Interfacing
Thermal Wadding
Green Bias Binding
Anchor Embroidery Threads