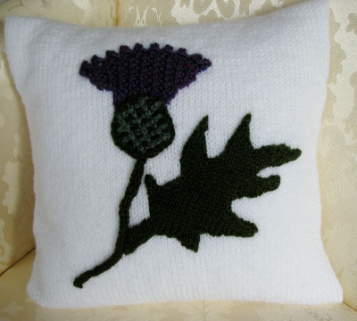 Scottish Thistle Cushion Cover Kit
The thistle is the well-known national flower of Scotland. The thistle on this cushion cover has been knitted separately and stitched onto the cover.
Part of our Patriotic range the Scottish Thistle Cover is inspired by the national flower of Scotland.
With legends of sleeping warriors and Norse invaders this flower is linked to Scottish tales of long ago battles.

As with all our kits the pattern leaflet includes detailed instructions of the stitches used.
Materials:
King Cole Pricewise and King Cole Big Value DK - both soft and vibrant 100% premium acrylic yarns, machine washable at 40 degrees.
Size:
The cushion cover fits a 30 cm (12 inch) cushion pad.
Included in the Kit:
Pattern Leaflet
Sufficient yarn to complete the cushion cover.
Optional Item:
Cushion Pad