Art Deco 'Sunburst' Cushion Cover
Posted on
Art Deco Sunburst Cushion Cover
Art Deco was a popular design movement from the 1920's to 1930's, a movement between the two World Wars. It affected all forms of art from architecture, interior design, sculpture, furniture, industrial design and visual arts such as fashion, clothing, jewellery, paintings, graphic arts and film.
Art Deco style is elegant, functional, streamlined and geometrical. The style began as a Modernist response in opposition to Art Nouveau styling which featured elaborate, flowing natural forms plus female imagery. Bold colour schemes were used such as silver, black, chrome, yellow, red, creams, greens, beige or oyster and eau-de-nil. In keeping with this bold idea black seemed a good background colour, with the use of strong coppers and bright turquoise. 100% wool also felt like the right fibre choice.
CONCEPT BOARD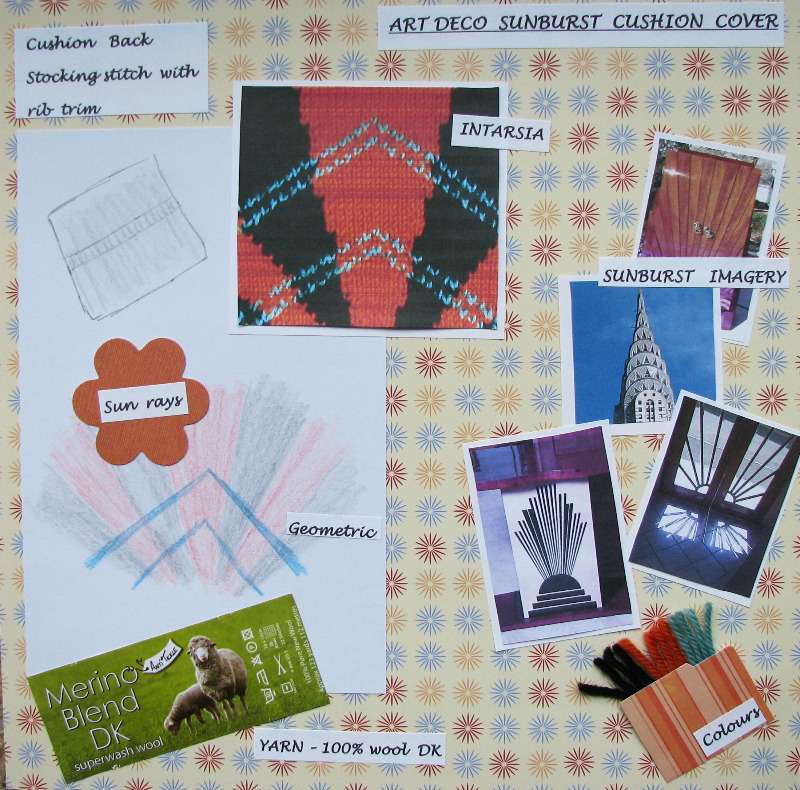 The sunburst effect was very popular and as you can see from the concept board it is seen in a variety of forms on architecture, furniture and interior design.
It is considered to represent exuberance and optimism in the Machine Age. The Chrysler Building, considered the finest Art Deco skyscraper, prominently features a sunburst crown and it can often be seen replicated throughout both private and public structures.
We added the turquoise chevron to add an extra geometrical dimension and to make the colours 'pop'.