Calico & Lace Cushion Covers
Posted on
Calico & Lace – A Trio of Simple Elegance - Cushion Covers
Calico in its truest form is an all-cotton fabric woven in plain, or tabby, weave and printed with simple designs in one or more colours. Calico originated in Calicut, India, by the 11th century, if not earlier. By the 17th and 18th centuries calicoes were an important commodity traded between India and Europe.
Often woven from cotton which has not been fully processed it may contain small particles of foreign matter, unseparated husk parts, for example. In modern times the term 'calico' is frequently used to refer to this fabric in its unfinished and undyed form, making it a relatively cheap but hard wearing material with a natural colour which fits in beautifully with most colour schemes.
CONCEPT BOARD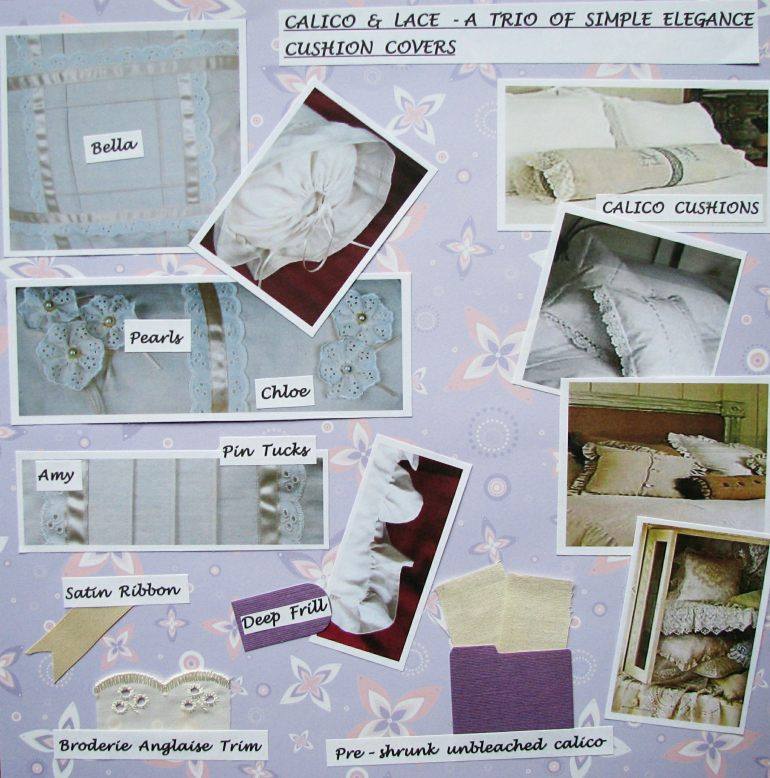 A pre-shrunk good quality calico is the material of choice. The overall look we wanted from this range was country cottage tinged with romance. Combining calico and lace is classic and has worked well in home furnishings for centuries.
Amy is the simplest cushion cover using lines of ribbon and lace either side of a trio of pin tucks. Bella is more complex and has both horizontal and vertical embellishment. Chloe is designed to cover a bolster, its shape and rosettes for decoration adding a different element to this set of three.